The Original Gerson Clinic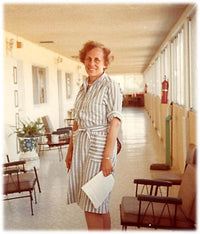 The first clinic offering the Gerson Therapy was called La Gloria, which its literal translation is "The Glory". It opened in1977 and was far away from downtown Tijuana.
I remember very fondly the first Gerson clinic to open in Mexico in 1977. It was in a former motel and called La Gloria. I loved that place with its large lawn, gently sloping down to the road, lovely plants and simple rooms. My mother, Charlotte came almost every day at the beginning and taught the doctors and kitchen help how to practice the therapy. She visited all the patients together with the doctors and gave her amazing warmth and encouragement to them all, placating their fears and being joyful for them when things went well.
Some patients wanted to stay long term at the hospital and to keep their costs down and give them that opportunity, the doctors opened other little facilities, "halfway houses" where the bare therapy was given without regular medical visits and support.
Two of our longest surviving successful patients, both of them with malignant melanoma, started their therapy in 1980 at La Gloria. One is our wonderful writer, Beata Bishop, who was 57 at the time and is now a bright 95 year old, still writing blogs and the occasional interview. Beata described her healing in the delightful book "A Time to Heal" in which she also talks about another patient, Carl King, with the same diagnosis as Beata. Carl got well, too, and is a healthy man in his sixties. These are almost 40 year recoveries from melanoma that had spread to the lymphatic system. Beata's prognosis before Gerson was 6 weeks to 6 months!
Unfortunately there was a fire at La Gloria in the 80s and it was no longer possible to remain there.
When Dr. Melendez came to La Gloria to train with Charlotte, there was an immediate rapport between them. Dr. Melendez was an oncologist and watched with amazement as people she would have had to operate, amputating limbs or removing organs, recovered on Dr. Gerson's miraculous program.
It is so moving to me that Dr. Melendez is still with us at the last clinic where Charlotte worked and where she lectured and consulted until she was over 90!  In the meanwhile, Dr. Cervantes became a well loved physician at the clinic and Charlotte always appreciated his insights, communication skills, and good humor.
Charlotte trusted Dr. Melendez and I remember that together with Dr. Luz Bravo they left one clinic where they did not feel the "additions" to Gerson were benefitting patients. If there was ever a monetary motive behind some new treatment and it proved dangerous for any patient, it was rejected.
I fully endorse the Health Institute de Tijuana where Dr. Melendez and Dr. Cervantes continue with this policy, testing and cautiously adding a few treatments that have shown sure promise and good results together with Gerson. Because "new" and "expensive" does not mean better.
Patients are fortunate with H.I.T. that notwithstanding their excellent renovations and quality care, they have kept the cost at a very reasonable level and, unlike at least one other clinic claiming to do Gerson, have a fine follow-up consultation program. Patients are never abandoned.
Twice a month, I myself lecture at the facility and the Max Gerson Foundation, and Anna Maria Aliano, is on the phone to take questions and help people book their stay at the clinic.
- Margaret Straus
Leave a comment (all fields required)
Comments will be approved before showing up.